July, 21, 2017
Jul 21
8:08
AM ET
Mark Brown/Getty ImagesMike Moustakas could help the Red Sox alleviate their offensive woes at third base.
ANAHEIM, Calif. -- By the time the Boston Red Sox are ready to jet home from Seattle on Wednesday night, the trade winds might be blowing hard enough in their direction to shave a few precious hours off their flight time.
Or maybe they will have made a deal already?
"I don't know. I can't answer that right now," manager John Farrell said of the likelihood that the Red Sox can pull off a trade before the July 31 deadline. "I can tell you every effort is being made to."
The Red Sox are in the pole position in the American League East, but their lead feels tenuous. They have scored only 42 runs in the past 13 games and have been shut out eight times overall, tied with the Los Angeles Angels and Kansas City Royals for most in the league. The Red Sox have gotten less offense out of third base (.606 OPS) than any team in the majors. And there is a sense that the bullpen, despite being surprisingly strong through the season's first half, is a house of cards, particularly in the seventh and eighth innings.
It's little wonder, then, that most rival talent evaluators suspect Red Sox president of baseball operations Dave Dombrowski will make at least one move, maybe more. There is even a sentiment within the organization that a trade will help, especially after the New York Yankees picked up third baseman Todd Frazier and relievers David Robertson and Tommy Kahnle from the Chicago White Sox.
"I think [adding players at the trade deadline] is always a plus," Farrell said. "It's a strong sign that everyone is aligned to support, add to, fortify, however you want to describe it, an area of need. There's almost an injection of maybe that support or further momentum that, 'OK, this is going to better equip us to go deep into the season.'"
Dombrowski has a few limitations. The Red Sox are trying to stay below the $196 million luxury-tax threshold, which leaves them with only about $9 million to add to the payroll. And after strip-mining the farm system within the past two years, they're intent on keeping their two remaining gems: Triple-A third baseman Rafael Devers and 18-year-old lefty Jason Groome. Devers might even be ready to help the big-league club late in the season.
But it isn't in Dealin' Dave's DNA to stand pat. With that in mind, here are five players who make sense for the Sox and one pie-in-the-sky long shot for their fans to dream about:
Yonder Alonso, 1B/3B, Oakland Athletics
He's hardly an ideal solution at third base, but neither is teammate Jed Lowrie or most of the other options at the position (Eduardo Nunez, Yangervis Solarte, Asdrubal Cabrera).
Alonso, 30, is having a breakthrough season in Oakland with 21 homers and .929 OPS and could be the bat the Red Sox are missing in the middle of the lineup. He's also owed less than $2 million in the final year of his contract. While the small-market A's might find it challenging to sign him to an extension, the Red Sox could afford Alonso and a reliever and still stay below $196 million.
Here's the issue: Alonso has played only 64 innings at third base in his career -- and not especially well. But if Hanley Ramirez is able to keep playing first base against lefties, the Red Sox can use Alonso as a part-time designated hitter. Against righties, slick-fielding Deven Marrero can be a late-inning replacement for Alonso at third.
Not perfect, but as a short-term fix until Devers is ready, it would be doable.
Rick Osentoski/USA TODAY SportsJustin Wilson could add some more snarl to the Red Sox bullpen.
Justin Wilson, LHP, Detroit Tigers
When it comes to relievers, he checks two of the boxes that fit the Red Sox's need: He has pitched in the late innings and he's left-handed.
Wilson, 29, throws a mid-90s fastball and an emerging slider and is striking out a career-best 12.5 batters per nine innings. He took over for deposed Francisco Rodriguez as the Tigers' closer in May and has gone 9-for-11 in save opportunities. But he's best-suited as a setup man, and with the Red Sox, he could handle the eighth inning and push Matt Barnes and Joe Kelly into the seventh.
Dombrowski was already gone from Detroit when the Tigers acquired Wilson in a trade with the Yankees. But that doesn't mean he shouldn't be interested in him now.
Pat Neshek, RHP, Philadelphia Phillies or Addison Reed, RHP, New York Mets
Unlike Wilson, who has at least one more year of club control, Neshek and Reed can be free agents after the season. As a result, the cost for both isn't likely to be more than a midlevel prospect.
Neshek, 36, uses a funky sidearm delivery and has been lights-out this season, posting a 1.17 ERA, 0.835 WHIP and 41 strikeouts in 38 1/3 innings. Considering the Phillies have the worst record in the majors, he's also a virtual lock to be traded before July 31.
Reed, 28, has a 1.37 ERA and a 24-to-5 strikeout-to-walk ratio since taking over as the Mets' closer in mid-May for injured Jeurys Familia. He's owed about $3.8 million through the end of the season, slightly more than Neshek (approximately $2 million) but still within the Red Sox's budget.
Mike Moustakas, 3B, Kansas City Royals
A few weeks ago, with the Royals in the midst of 20 wins in 28 games, general manager Dayton Moore sounded like a trade-deadline buyer.
Have seven losses in the last 10 games changed his mind?
Dombrowski will be sure to find out. If the Royals decide to sell, the Sox will have great interest in Moustakas, a free agent at season's end who has eclipsed his career-high with 25 home runs. Not only would he be an ideal fit in the middle of the order, but as a left-handed hitter, he would bring more balance to a lineup that features righties Mookie Betts, Dustin Pedroia, Xander Bogaerts and Ramirez.
And Moustakas is exactly the sort of two-month rental the Red Sox need to avoid the temptation of rushing Devers.
Manny Machado, 3B, Baltimore Orioles
OK, as long shots go, this is like a full-court heave at the buzzer.
Devers and Groome would have to go, and even then, it wouldn't be enough. Although Machado is in the midst of the worst season of his career, the 25-year-old superstar wouldn't be moved for anything less than peak value considering he still has a year and a half before he reaches free agency.
And even if Dombrowski had the assets to get it done, there's no chance the Orioles would trade Machado to a division rival, especially one that has the money to sign him long term.
Besides, isn't it more interesting if Machado remains a Red Sox villain rather than joining their ranks?
July, 21, 2017
Jul 21
12:40
AM ET
By
Paul Casella, ESPN Stats & Information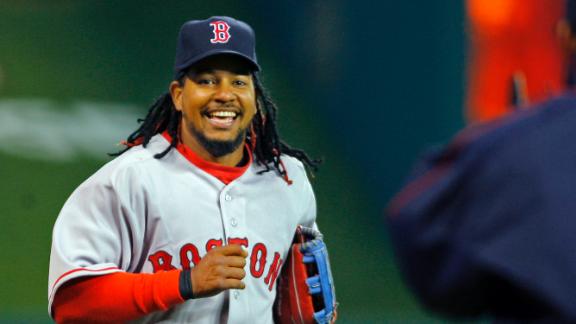 Few players, if any, provided as many memorable high jinks as Manny Ramírez. Thirteen years ago today, Ramirez cut off Johnny Damon's throw in the outfield. Damon returned the favor 10 years later, "cutting off" Ramírez's ceremonial first pitch after a pregame ceremony honoring the 2004 World Series champions.
On the anniversary of perhaps his most mind-boggling play, why not take a look back at some of the best "Manny being Manny" moments of his career.
Aug. 13, 1997: Ramírez steals second, then is thrown out jogging back to first base.
July 18, 2005: Ramirez disappears into the Green Monster while a coach visits the mound.
May 14, 2008: Ramirez makes a running catch, high-fives a fan, then throws the ball back to the infield to complete a double play.
Of course, let's not forget that Ramirez was also a 12-time All-Star, a two-time World Series champion and the 2004 World Series MVP and finished with 555 career home runs.
He's one of five players with 550 home runs and a .300 batting average. The other four are Hank Aaron, Babe Ruth, Willie Mays and Albert Pujols.
He hit .396 with 17 home runs and 53 RBIs in 53 games with the Dodgers in 2008 after being acquired from the Red Sox. Despite playing in only those 53 games for Los Angeles, he finished fourth in the NL MVP voting.
Ramirez also holds one notable baseball record. He has 29 career postseason home runs; no one else has more than 22.
July, 20, 2017
Jul 20
10:50
AM ET
Jim McIsaac/Getty ImagesTigers closer Justin Wilson has a 0.94 WHIP and 50 strikeouts in 36 innings this season.
Will Detroit Tigers closer Justin Wilson be the next veteran to get a one-way ticket out of Michigan?
The Houston Astros, Milwaukee Brewers and Boston Red Sox are among the teams "showing continued interest" in the 29-year-old left-hander, tweets Jon Morosi of MLB Network. Up to a dozen teams have expressed interest in Wilson, adds Anthony Fenech of the Detroit Free Press.
The Tigers moved into rebuilding mode earlier this week by dealing outfielder J.D. Martinez to the Arizona Diamondbacks.
It already has been a busy trade market for relievers with Sean Doolittle, Ryan Madson and David Robertson changing teams. The Tigers, however, can still seek a high price tag for Wilson, who has a 0.94 WHIP and 50 strikeouts in 36 innings this season, including saves in 10 of his 12 opportunities.
Earlier this week, Wilson was linked to the Washington Nationals and Tampa Bay Rays.
- Doug Mittler
July, 19, 2017
Jul 19
8:22
PM ET
ESPN.com news services
Third baseman Pablo Sandoval has struck a minor league deal to return to the San Francisco Giants, pending a physical, according to multiple reports.
The former Giants star is en route to San Francisco after his release from the Boston Red Sox earlier Wednesday. Sandoval, who will turn 31 in August, will take a physical for the Giants then begin playing in Triple-A Sacramento, the reports said.
Because Sandoval is on waivers, he won't be able to sign a contract until later in the week, when he officially becomes a free agent.
"I'm waiting for Friday to make a decision, and the Giants are one of my options," Sandoval told ESPN's Marly Rivera by phone. "I have a few teams interested, but I can't make a decision until Friday."
The 2012 World Series MVP with the Giants was let go Wednesday by the Red Sox when he didn't report after being designated for assignment last week. It officially ended the Boston tenure for the once-celebrated free agent, who never was healthy enough to live up to the expectations that came with the $95 million contract he signed in 2014.
"He did a lot here, and we'll never forget that," Giants manager Bruce Bochy told KNBR 680 radio on Wednesday. "Sometimes, it makes sense, especially when you're looking at it financially, it doesn't cost you a lot."
First baseman Brandon Belt expects Sandoval to again become a fan favorite.
July, 19, 2017
Jul 19
6:50
PM ET
AP Photo/Mark J. TerrillEduardo Nunez is hitting .297 this season while primarily playing third base for the Giants.
After missing out on Todd Frazier, the Boston Red Sox have another target in mind to fill their gap at third base.
USA Today's Bob Nightengale reports that the Red Sox have interest in San Francisco Giants 3B Eduardo Nunez in their search for a third baseman.
Nunez, 30, is in his second season with the Giants after spending time with the New York Yankees and Minnesota Twins. While playing primarily at third base this season, Nunez has shown the ability to fill in at several positions including shortstop, second base and left field. He will be a free agent for the first time at the end of this season and could be a possible trade chip for the Giants, as they have sunk 29 1/2 games out in the NL West. Nunez has compiled a .297/.322/.409 slash line this season.
The Red Sox rank 29th in OPS from their third baseman this season. Boston released Pablo Sandoval and has primarily gone with Deven Marrero at the hot corner, a career .209 hitter. The Red Sox reportedly had interest in Todd Frazier, who was dealt to the New York Yankees on Tuesday. Nunez could represent a solid stop-gap at third while the Red Sox await the arrival of Rafael Devers, Keith Law's No. 3-ranked prospect

, who was recently promoted to Triple-A Pawtucket.
--Sam Henken
July, 19, 2017
Jul 19
4:32
PM ET
Associated Press
BOSTON -- The Red Sox have officially released Pablo Sandoval because the third baseman didn't report after being designated for assignment last week.
The team announced the move Wednesday.
It officially ends the Boston tenure for the once-celebrated free agent, who never was healthy enough to live up to the expectations that came with the $95 million contract he signed in 2014.
With the Red Sox unable to find a team willing to take on part of his salary, the 2012 World Series MVP with the San Francisco Giants moves on after a total of 161 games, 575 at-bats, 136 hits and 14 homers for Boston -- but not a single one of them in the postseason.
July, 19, 2017
Jul 19
10:07
AM ET
The New York Yankees are back as buyers on the trade market.
On Tuesday night, the Bronx Bombers acquired third baseman Todd Frazier and relievers David Robertson and Tommy Kahnle from the Chicago White Sox. In exchange, Chicago got right-handed reliever Tyler Clippard and three prospects -- outfielder Blake Rutherford, left-handed pitcher Ian Clarkin and outfielder Tito Polo.
By the looks of it, this trade could have major short- and long-term implications. Weigh in on how this trade impacts the Yankees and White Sox and the AL East playoff race.
Although Frazier, 31, has struggled with a .207 batting average this season, he is expected to be an upgrade at the Yankees' corner infield positions (he can play first or third base).
With this latest trade, the White Sox continue to compile young players for the future. According to Baseball America, Chicago now has eight of the top 100 prospects in baseball.
July, 19, 2017
Jul 19
8:45
AM ET
BOSTON -- Your move, Dave Dombrowski.
As the Boston Red Sox played yet another marathon -- a 15-inning, 5-4 win over the Toronto Blue Jays that began in the rain Tuesday night and ended with Hanley Ramirez's walk-off homer at 1:09 a.m. ET Wednesday -- Dombrowski sat in his front-row seat in a suite high above home plate at Fenway Park, scanning his computer, just like always.
Dombrowski was joined briefly by owner John Henry, who usually watches from a box seat next to the dugout. Otherwise, at least from a distance, there appeared to be no flurry of activity in response to the New York Yankees (of all teams!) pulling off a trade with the Chicago White Sox for relievers David Robertson and Tommy Kahnle, as well as third baseman Todd Frazier -- three players who could have helped address the Red Sox's two most glaring needs.
A missed opportunity? Maybe.
The end of the world? Hardly.
Adam Glanzman/Getty ImagesThe Red Sox watched the rival Yankees get better by adding third baseman Todd Frazier and big-time bullpen help. Whatcha got, Dave Dombrowski?
True, Frazier made so much sense as a third-base upgrade for the Red Sox that it was presumed he'd been dealt to Boston after the White Sox took him out of the lineup before Tuesday night's game against the Los Angeles Dodgers. Robertson or Kahnle, meanwhile, would have been useful additions to a bullpen that still lacks a proven setup man despite a surprisingly successful first half of the season. Instead, they will join a deep Yankees bullpen that already features Dellin Betances, Adam Warren and closer Aroldis Chapman.
But the trade deadline is still 13 days away. Between now and July 31, there will be other third basemen and late-inning relievers available to the Red Sox, presumably at a lower cost than the three prospects the White Sox managed to extract from the Yankees by bundling together Frazier, Robertson and Kahnle in the same deal.
It was a shrewd move by White Sox general manager Rick Hahn, who knew he wasn't going to get much in return for only Frazier, a free agent after the season. The Red Sox did inquire about Frazier, a major league source confirmed, but it's not clear whether they were interested in either reliever. Two days ago, another major league source said most teams that have talked to the Red Sox "don't see them shipping off top-tier guys" for a third-base rental and relief help. After trading top prospects Yoan Moncada, Michael Kopech, Anderson Espinoza, Manuel Margot and Mauricio Dubon in the past two years, Dombrowski must guard the gems that remain, namely Triple-A third baseman Rafael Devers and 18-year-old lefty Jason Groome.
So, while the Yankees were willing to give up a package that included 2016 first-round pick Blake Rutherford and touted lefty Ian Clarkin in order to bridge the gap in the American League East, the division-leading Red Sox took a pass on Frazier knowing they might be able to land Oakland A's infielder Jed Lowrie -- or versatile Eduardo Nunez of the San Francisco Giants -- for less.
Heck, if the Sox hold out long enough, the Kansas City Royals might begin taking calls about All-Star third baseman Mike Moustakas. Like Frazier, Moustakas is playing out the final year of his contract, and the Royals have lost seven of their past eight games.
There are options in the relief market, too, even with Robertson, Kahnle, Ryan Madson and Sean Doolittle on the move. Two potential targets: Philadelphia Phillies right-hander Pat Neshek and New York Mets closer Addison Reed, both of whom are eligible for free agency at season's end.
One thing seems certain: Dombrowski will make a move. Dealin' Dave doesn't usually stand pat in July. Over the past decade with the Detroit Tigers and the Red Sox, his trade-deadline moves have included the additions of Sean Casey (2006), Jarrod Washburn (2009), Jhonny Peralta (2010), Doug Fister (2011), Omar Infante (2012), Anibal Sanchez (2012), Jose Iglesias (2013), David Price (2014), Joakim Soria (2014), Brad Ziegler (2016) and Drew Pomeranz (2016). Dombrowski has also been responsible for the subtractions of Ivan Rodriguez (2008), Price (2015), Soria (2015) and Yoenis Cespedes (2015) in the month of July.
During his weekly appearance on NESN's pregame show Tuesday, Dombrowski called third base an "obvious" position of need. He also noted the Red Sox are "a little bit shorthanded" in the bullpen. Considering the Red Sox were built to win the World Series, with a starting rotation led by Chris Sale and Price, it seems unlikely that Dombrowski would leave the team's few areas of weakness unaddressed.
"I don't think we're close to anything at this point, but talks take place all the time at this time of year," Dombrowski said. "I think we're open to upgrading ourselves in any way we possibly can. We'll just have to analyze it, see if there's a move that can make us better."
In the meantime, the Red Sox watched the Yankees get better Tuesday night. Now, it's their turn to make a move.
July, 18, 2017
Jul 18
7:53
PM ET
BOSTON -- Short of pulling off a trade before the end of the month, there really isn't much the Boston Red Sox can do to jump-start their on-again, off-again offense.
But here's a first step: Put Hanley Ramirez at first base.
Ramirez dusted off his glove Tuesday night in Fenway Park and made only his third start of the season at first base against the Toronto Blue Jays. The move came one day after Ramirez met with manager John Farrell to discuss playing first base more often against left-handed pitching, an alignment that figures to improve the Red Sox's lineup flexibility and might even give them more options before the July 31 trade deadline.
"A conversation with Hanley [Monday] was centering around that," Farrell said. "He is understanding this isn't just a today situation."
All along, the Red Sox intended to use Ramirez at first base and Chris Young as the designated hitter against left-handed pitchers, while having Ramirez at DH and Mitch Moreland at first base against right-handers. But soreness in both shoulders has limited Ramirez to almost exclusive DH duty.
The result: Moreland has played nearly every day and Farrell has had to find opportunities to get Young in the lineup, usually at the expense of rookie left fielder Andrew Benintendi. But while Moreland had a strong first half of the season, he's in a 3-for-29 funk that has coincided with him playing through a broken toe.
July, 18, 2017
Jul 18
6:20
PM ET
Hannah Foslien/Getty ImagesChicago White Sox closer David Robertson has a 2.70 ERA in 31 appearances this season.
Baseball's biggest rivals could once again face off as the trade deadline nears.
The New York Yankees and Boston Red Sox are both after Chicago White Sox closer David Robertson, according to Bob Nightengale of USA Today.
Robertson has a 2.70 ERA and 0.96 WHIP in 31 games this season (28 finished). The 32-year-old is 13-for-14 in save opportunities and has struck out 47 batters over 33 1/3 innings.
Given that the White Sox are in the midst of a rebuilding operation, it wouldn't be surprising to see them part with Robertson, who signed a four-year, $46 million deal with Chicago as a free agent prior to the start of the 2015 season.
Nightengale projects the Yankees as favorites to land Robertson. The right-hander was drafted by New York in 2006 and spent the first seven seasons of his major league career (2008-14) in the Bronx, posting a 2.81 ERA in 402 games with the Yankees. He was an All-Star in 2011 and three years later took over the closer's role following Mariano Rivera's retirement.
The Red Sox view Robertson as a potential setup man for Craig Kimbrel, but a deal for Robertson and teammate Todd Frazier would likely have a high price tag, Nightengale writes. He predicts that Robertson won't cost the Yankees as much.
-- Alex Tekip