September, 24, 2017
Sep 24
8:20
PM ET


CINCINNATI -- Mookie Betts had just thrown out two baserunners, driven in three runs with a double, and scored the go-ahead run from second base on an infield single. Yet the Boston Red Sox star couldn't help thinking about a different moment from Sunday's game.
"I thought I got that one to center," Betts said of a sixth-inning fly ball that came down short of the fence at Great American Ballpark. "And then I remembered that I'm 170 pounds."
Betts smiled easy and laughed, and why not? The Boston Red Sox won their sixth consecutive game, 5-4 over the Cincinnati Reds, and capped an 8-1 road trip in which they came from behind to win four times when trailing by three runs or more. They stretched their division lead to five games over the playoff-bound New York Yankees with seven remaining and reduced their magic number to three to win back-to-back American League East titles for the first time in their history.
Sunday might have been the Mookie Betts Show, with the dynamic right fielder almost single-handedly responsible for a four-run eighth-inning rally against two Reds relievers, including closer Raisel Iglesias. But it was also quintessential Red Sox in both style and substance.
In a season in which home runs have been hit in record numbers, the Red Sox didn't get the memo. They are last in the league and 27th in the majors with only 160 homers.
That hasn't stopped them from ranking in the top half of the league in runs (753) and winning 91 games, two shy of their total from last year. With a strong finish in the final week of the season, the Sox could approach the 97-win total from their World Series-winning 2013 season.
Offensively, they do it the way they did in the eighth inning against the Reds. A walk here (to Christian Vazquez), a base hit there (by Xander Bogaerts), another grind-it-out walk (by Andrew Benintendi), a well-timed hit (Betts' double over the left fielder's head) and always daring baserunning. This time, after tying the score, Betts never stopped around third base on Rafael Devers' tapper, forcing Iglesias to rush a throw in the dirt to first and beating Joey Votto's relay to the plate.
"With Iglesias pitching, I know it's going to be tough to score," Betts said. "I know Devvy runs good down the line and I figured he would have a chance to beat it. With that play having to happen, me running home was going to be a tough play at home."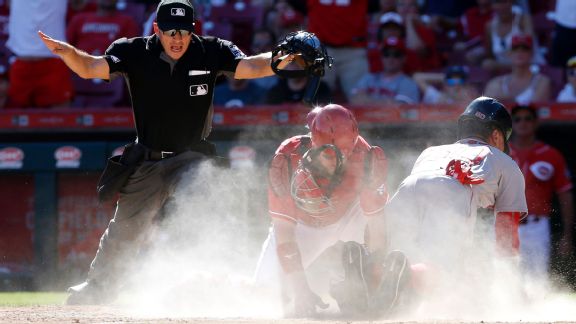 David Kohl-USA TODAY SportsMookie Betts scored the go-ahead run against Reds catcher Tucker Barnhart during the eighth inning at Great American Ball Park.
Opportunistic and aggressive. The Red Sox don't apologize for it, even though it means they run into more outs on the bases than any team in the majors. It's the way they have to play, the only way for a team that doesn't strike quickly by launching balls over the fence, even in homer-friendly places like Great American Ball Park.
"We don't give at-bats away," manager John Farrell said. "You look at the eighth inning that, finally we were able to mount an inning, have one offensive push today. Combined in that are the relentless at-bats of Vazqui, Beni with a couple of walks built in there. That's a part of our weaponry and it continues to show true to form."
Pitching-wise, it all revolves around a staunch bullpen. When Farrell lifted starter Doug Fister in the sixth inning, the Red Sox were trailing 3-1. Fernando Abad, Brandon Workman, Robby Scott, Addison Reed and Craig Kimbrel passed the baton for the final 11 outs. They didn't give up a hit and allowed one unearned run to give the offense a chance for that one rally.
"We're learning a lot about ourselves," said Fister, no stranger to winning teams from his years in Detroit and Washington. "We can put ourselves in a corner getting down early and all of a sudden we fight back. If we need to put up a touchdown, the boys are putting up a touchdown. It's that kind of mentality that we're never out of the fight until the fight's over. That's a great thing for us going into our future."
It's far easier, of course, to play from ahead, especially when the opponents shift from the out-of-contention Reds, Baltimore Orioles and Tampa Bay Rays to the Houston Astros, Cleveland Indians and the rest of baseball's iron. It will be much more challenging to mount comeback after comeback in the postseason. Fall behind too often and the Red Sox won't be long for the tournament.
But after months of searching for their identity in Year 1 of the post-David Ortiz Era, at least they have figured out who they are as a team and how they have to play. And while their best player would have preferred that his fly ball to center had traveled a few feet farther, it's hardly the only way for Betts to impact a game.
"I put in a lot of work to get to a good spot [offensively] and just kind of let my abilities take over, and I was finally able to do that. Better late than never," Betts said. "I try and affect the game in every way. I was able to do it today in a couple of different ways. It's a reason to come back to the park."
Also a reason the Red Sox can't be counted out in October.
September, 23, 2017
Sep 23
9:22
PM ET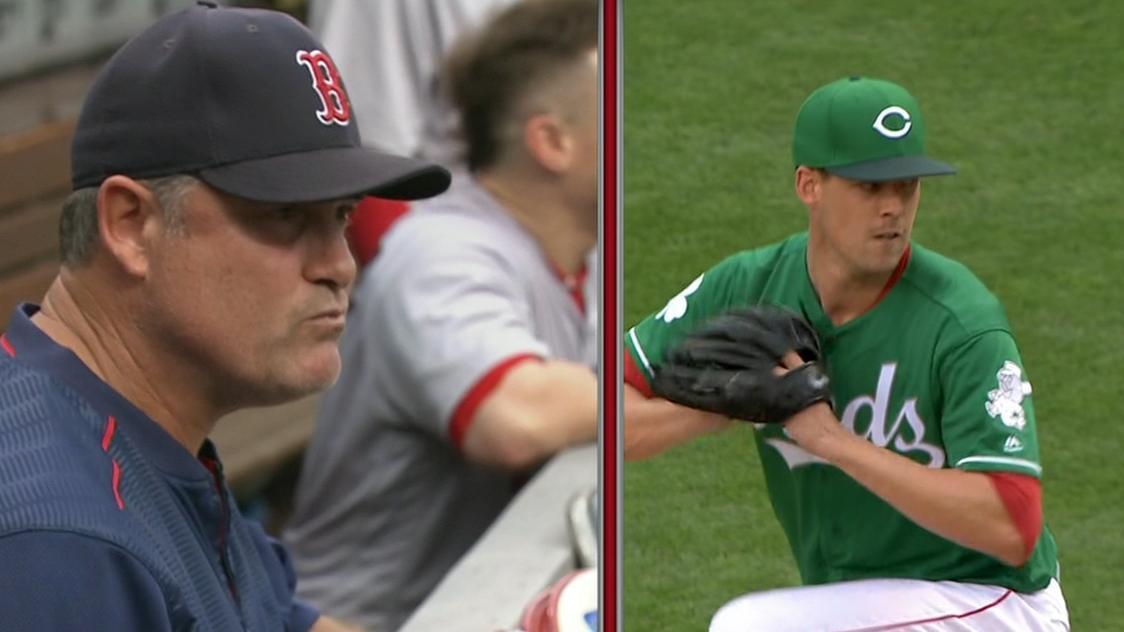 CINCINNATI -- On July 1, John Farrell took leave from his managerial post with the Boston Red Sox and flew to Kansas City to watch his son, Luke, make his major league debut. It was a day neither will forget.
But no father ever has watched his son pitch from the vantage point John Farrell had Saturday.
Watching from the visiting dugout along the third-base line in a 5-0 Red Sox win, John Farrell saw Luke toss a scoreless top of the ninth inning for the Cincinnati Reds. As Luke walked off the mound, his father saluted him with a slight tip of the cap.
"Somewhat surreal. Very proud," John Farrell said. "You're standing there, looking through a netting in the dugout, and you're thinking you're maybe watching him in Little League or high school or so many of the different stages. To see it happen on a major league mound, a special day, a special inning."
It was also historic.
According to the Elias Sports Bureau, it marked the first time a pitcher had faced a team managed by his father in a major league game. It was the first time any player had faced his father's team since Moises Alou with the Chicago Cubs against Felipe Alou's San Francisco Giants in 2004.
"That's a lot of people that have played this game," said John Farrell, who had an eight-year major league career as a pitcher for the Cleveland Indians, California Angels and Detroit Tigers. "If that's the first [pitcher-manager, father-son] combination, it's a proud day. But that makes it even that much more unique."
September, 23, 2017
Sep 23
12:28
AM ET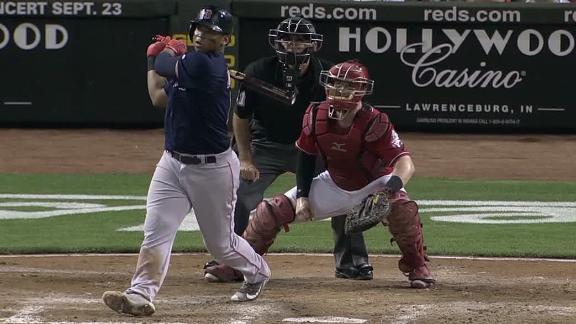 CINCINNATI -- Rick Porcello wasn't thrilled to be removed from Friday night's game after 57 pitches and four innings, with the Boston Red Sox leading by one run. And as recently as 10 days ago, he wouldn't have been, at least according to manager John Farrell.
But that was before David Price took up residence in the bullpen.
If Price's first regular-season relief appearance in seven years -- a six-up, six-down domination of the Tampa Bay Rays on Sunday -- didn't convert all the non-believers into thinking he can be an October game-changer for the Red Sox, the performance he turned in here Friday night really ought to do the trick. Price took over for Porcello, tossed 2⅔ scoreless innings and picked up the win in a 5-4 victory over the Cincinnati Reds.
"I know Rick did not want to come of that game, and I fully respect that," Farrell said after the Red Sox increased their American League East lead to four games over the New York Yankees with nine to play, lowering their magic number to clinch the division title to six. "I just felt like, with the left-hander in David going up against the heat of that order, it was the move to make."
Porcello and the other starting pitchers might want to get used to it. The Red Sox still aren't sure how frequently Price will be able to pitch in his new relief role. Against the Reds, he was working on four days' rest, the typical recovery time for a starter.
But Farrell's aggressive usage of Price, particularly against a lefty-heavy lineup, might be a preview of things to come. Rather than subject Porcello to a third time through the Reds' order, Farrell went to Price in the middle innings to bridge the gap to setup man Addison Reed and eventually closer Craig Kimbrel, a formula the Red Sox hope to repeat frequently during the playoffs.
And once again, Price delivered. He shelved his curveball against Reds hitters who like to swing early in the count, cranked up his fastball to 95 mph, sprinkled in the occasional changeup and recorded eight outs.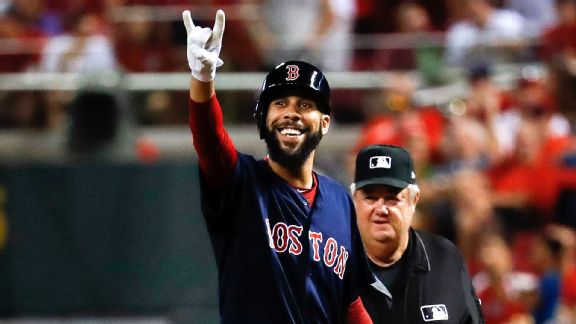 AP Photo/John MinchilloDavid Price not only picked up his first win since July with a scoreless relief outing, the lefty notched his first hit since 2010.
Price was so effective that Farrell even let him hit for himself in the sixth inning. He came through with his bat, too, blooping a leadoff single into left field. It was his first hit since 2010 and only his third in 48 career at-bats, and it brought a rare smile to the face of a pitcher who has scowled his way through an injury-riddled season in which he has often sparred with the media.
"I liked hitting way more," Price said. "That was cool. I was due."
But the Red Sox are paying Price $31 million this season because of the impact he can make with his left arm. Two trips to the disabled list, including a seven-week stint after soreness returned to his elbow and triceps following a July 22 start in Anaheim, California, have left the 32-year-old without enough time to rebuild the arm strength to start in the postseason.
That doesn't mean the Red Sox can't use him out of the bullpen in the same way the Cleveland Indians use Andrew Miller, specifically to get outs in the middle of a game against the heart of an opponent's lineup.
"He's healthy and that's the beauty of all this," Farrell said. "All the work that he's put in to get back to this point, and then still, I don't want to say marvel at it, but the way he comes out and throws strikes -- and quality strikes. We're talking five innings in the past two months, and it's impressive to see the way he commands the baseball."
Price has already made an impact on the AL East race. The Yankees are 14-6 in their past 20 games, but the Red Sox have been able to keep them at arm's length by winning 12 of their past 15. Price played a large role in two of those victories.
"We don't care what the Yankees do. Just go play our game," Price said. "We're in first place for a long time now. Ball's in our court. If we win, we're fine."
Porcello gave up a grand slam to Scooter Gennett in the first inning, but he appeared to be settling down by the fourth inning. He worked around a one-out walk to Gennett in the third inning and a hit by pitch to open the fourth, and when Rafael Devers homered for the first time in 116 plate appearances, Porcello had a 5-4 lead.
Farrell admitted it's "not likely" that he would've pulled Porcello if Price hadn't been available, especially against lefty-hitting Joey Votto and Gennett in the fifth inning. But if Porcello or fellow starters Drew Pomeranz, Doug Fister and Eduardo Rodriguez don't think Farrell won't do it again, particularly in the postseason, they would be kidding themselves.
"That's the reason you make the move, to have someone throwing the ball as well as David did down in Tampa," Farrell said. "Hopefully that was going to be the case tonight. It worked out."
So far, the Price experiment is working out as well as the Red Sox could have hoped.
September, 22, 2017
Sep 22
7:50
AM ET
It's almost time for the postseason to start, so the most important question is: Who is going to win it all?
One month ago, most people would have answered the Los Angeles Dodgers.
One week ago, the odds were soaring for the Cleveland Indians.
The Boston Red Sox, Houston Astros and Washington Nationals have also been in the conversation all season. And you can't forget about the defending champion Chicago Cubs.
So, which team is going to win the World Series?
Make your pick now! Jessica Mendoza, Aaron Boone and Buster Olney will reveal their votes during ESPN's Sunday Night Baseball broadcast featuring the Los Angeles Angels and Houston Astros (ESPN, 8 p.m. ET).
September, 22, 2017
Sep 22
7:30
AM ET
Adam Glanzman/Getty ImagesFrom the first time he scaled a major league mound, Red Sox closer Craig Kimbrel has been pure, unadulterated nasty.
A few months ago, with Craig Kimbrel in the midst of a 15-inning scoreless streak, fellow Boston Red Sox reliever Matt Barnes took stock of the closer's excellence.
"Craig has been this good for, what, six years?" Barnes asked.
Eight, actually. But Barnes' point was well taken. Since the first time Kimbrel scaled a major league mound, on May 7, 2010, in Philadelphia, he has been pure, unadulterated nasty. With a fastball that averages 97.8 mph, a curveball that bends like a banana and a pre-pitch stance in which he holds out his arms like a bat's wings while he leans in to read the catcher's sign, he has turned out the lights in the ninth inning for three teams, including the Red Sox for the past two seasons.
So, yes, Kimbrel's early-season five-week run of not allowing a run and retiring 46 of 49 batters -- 28 by strikeout -- was impressive. But it was hardly out of character.
It also is a microcosm of Kimbrel's season. Entering Friday, he hadn't allowed a run in 55 of 63 appearances, while permitting 47 baserunners in 65 innings and striking out 121 of 240 batters (50.4 percent). He had a 1.38 ERA, a 0.66 WHIP and 33 saves in 37 chances. Kimbrel has allowed only 101 balls to be put in play and is holding opponents to a .131 batting average. Right-handed hitters are 12-for-122 (.098) against him.
"Nothing is ever given or automatic," Red Sox manager John Farrell said, "but he's pretty darn close."
Indeed, at a time when the Red Sox are trying to close out the American League East, get Mookie Betts and Xander Bogaerts hot at the plate, keep Dustin Pedroia healthy, determine whether David Price is viable as a reliever and figure out why ace Chris Sale has ceased dominating like Randy Johnson over the past two months, their closer is one thing they need not be worried about.
"Guy throws anywhere from 97 to 100 mph from down here," Barnes said, dropping his arm to mimic Kimbrel's release point, "and then he has a breaking ball that comes right off of that same plane. When he's commanding it, the numbers kind of speak for themselves. I think he's been undoubtedly the best closer in baseball as long as he's been in the league."
Barnes is biased, of course. He also might be right. A strong argument can be made that Kimbrel is the best reliever of the decade.
Consider, for one thing, that this might not even be Kimbrel's best season. In 2012, his third year in the big leagues, he struck out 116 of 231 batters (50.2 percent), posted a 1.01 ERA, notched 42 saves in 45 chances and allowed opponents to bat only .126. At one point, he gave up just two runs in 37 appearances spanning 16 weeks.
Kimbrel made his debut for the Atlanta Braves in 2010 and became their closer the following year. Among relievers with at least 100 innings pitched since 2010, he ranks first in ERA (1.79), saves (289), WAR (17.7), strikeouts (767) and strikeout percentage (42.0); second in strikeouts per nine innings (14.8) behind New York Yankees closer Aroldis Chapman (14.92); and third in WHIP (0.909), trailing Koji Uehara of the Chicago Cubs (0.833) and Los Angeles Dodgers closer Kenley Jansen (0.872).
About the only thing Kimbrel hasn't done is win a playoff series, but that isn't his fault. He converted his only save opportunity in eight postseason appearances, including two non-save situations for the Red Sox in last year's division series sweep by the Cleveland Indians.
"I've always liked Kimbrel at the top," one National League scout said when asked for his list of the decade's best relievers. "He gets you out three ways if he wants to. Filthy breaking ball, and he pounds the swing-and-miss from the letters in the zone to eye level. Excellent fielder. Does the little things so well."
Unlike most closers, Kimbrel was raised to be a reliever. He got his first taste of it during his freshman year at Wallace State Community College in Hanceville, Alabama. After dropping a panel of drywall and breaking his left foot while on a construction project with his father, he was eased back to the mound in a relief role before going back to starting again.
"His conditioning was riding a bicycle, and I decided, I said, 'Look, we're just going to put you in that closer's role,' because I had doubt, to be honest, about whether he could condition enough to be able to go six or seven innings," Wallace State coach Randy Putman said. "So it kind of fell into place for him, and he loved it. He loved it."
While Kimbrel's broken foot healed, he maintained his arm strength by throwing from his knees, part of a program developed by Putman. The result: Kimbrel built up his lower back and obliques and picked up steam on his fastball. Suddenly he was lighting up radar guns in the mid- and upper-90s, velocity not typical at the junior college level.
"I'll never forget, his sophomore year, we were playing in Tuscaloosa in a fall game, and I'd say there were probably 25 scouts in to see him. Every pitch was at 98, 99, and it was on the kneecaps," Putman recalled. "That was the tip of the iceberg. He had signed at Alabama, and I told the coaches there, 'You ain't getting him. He's going to go [pro].'"
Indeed, the Braves scooped up Kimbrel in the third round of the 2008 draft and had no doubt about his role. They saw him as the mirror image of Billy Wagner, the former All-Star closer with the undersized body and rocket arm.
Kimbrel didn't make a single start in 121 games in the Braves' minor league system. As a matter of fact, 80 of those appearances lasted only one inning, a pedigree that has shaped why Farrell has been so reluctant to extend Kimbrel beyond three-out saves the past two seasons.
"At the time, I think the preferred development path for even relievers was to give them multiple innings to allow them to develop their pitches," said former Braves general manager Frank Wren, now the Red Sox's senior vice president of player personnel. "But I think that's what was exceptional about Craig. It was pretty universal in our thought process that we will try to get him multiple innings at times, but this guy is a closer."
Kimbrel was traded to the San Diego Padres on the eve of the 2015 season and dealt again to the Red Sox before last season. By Kimbrel's standards, 2016 was a down year. He posted a career-high 3.40 ERA in large part because his walk rate skyrocketed to 5.1 per nine innings. Not one to make excuses -- or talk about himself, for that matter -- Kimbrel can safely attribute his struggles to midesason surgery to repair cartilage in his left knee.
"His health and usage are huge keys this year," the NL scout said. "I also think he's comfortable knowing AL teams now, whereas he was very cautious when he first arrived."
Regardless, Kimbrel is back to being, well, himself -- dominating at a level that has the Red Sox entering the playoffs with the best closer available. Kimbrel also has vindicated Red Sox president of baseball operations Dave Dombrowski, who was widely criticized for giving up three prospects for a closer.
Now the Red Sox have to at least consider a contract extension for Kimbrel, who will be 30 when his $13 million team option runs out after next season.
"As I say, 'typical Craig Kimbrel,'" Putman said. "He's having the kind of year that he expected to have. He's the best closer in the big leagues, in my opinion, and he may go down as one of the best closers ever in the game."
Said Barnes: "The guy strikes out the world. It's kind of ridiculous."
Eight years of ridiculousness make Kimbrel as good as it gets.
September, 21, 2017
Sep 21
2:04
AM ET
It happened in the middle of the night.
The Boston Red Sox were airborne, heading from Baltimore to Cincinnati. Maybe they exchanged a few high-fives somewhere over West Virginia. Or maybe they just slept through it. At least they will have something to toast at dinner on their night off Thursday.
But the champagne-and-beer celebration, the one in which corks fly across a room and players break out designer ski goggles? That will wait, as it should, for another time and place.
Patrick McDermott/USA Today SportsThe Red Sox reeled in another postseason appearance thanks to Wednesday's win and an Angels loss.
It's not that clinching a playoff berth -- as the Red Sox did Wednesday night with the combination of their 9-0 pounding of the Baltimore Orioles and the Los Angeles Angels' 6-5 loss to the Cleveland Indians -- isn't a notable accomplishment. Only 10 teams get to play beyond the regular season. To stand among them is no small feat, especially considering the Red Sox have done it in only three of the past eight years.
But after getting swept out of the playoffs in the American League Division Series last year, the Red Sox have loftier goals, such as winning the division. They lead the American League East by three games over the New York Yankees with 10 games to play. If they can close the deal next week, then it will be party time.
"Just getting into the playoffs is not our goal," manager John Farrell told reporters Wednesday night. "Certainly it's a steppingstone toward other things that we have our sights set on, as many teams do. We've got a lot of work ahead of us."
Indeed, the Red Sox can't afford to take their feet off the pedal. The Yankees have won 14 of their past 18 games, forcing the Red Sox to win 11 of their past 14 just to keep the division lead from getting really uncomfortable.
"We're just worried about our business, worried about what we have to do in going out there to win games," ace Chris Sale told reporters after becoming the first AL pitcher since Pedro Martinez in 1999 to record 300 strikeouts in a season. "I don't know what the [magic] number is. I don't know who needs to do what. I know if we keep winning games we're going to put ourselves in a good position, and that's really all that matters to us."
In that case, with three series remaining beginning Friday night in Cincinnati, here are a few things worth watching as the Red Sox inch closer to their first back-to-back AL East titles since divisional play began:
1. Hanley Ramirez's health and production. Remember Hanley? He went missing for four games with a cranky left biceps before pinch hitting in the ninth inning Monday night, but really, he has been AWOL for most of the season. He has dealt with sore shoulders since spring training, and it's not just the burden of being pegged as the primary power source in the post-David Ortiz era. Ramirez has 22 homers, only nine since the All-Star break, and has driven in just 58 runs. If a three-hit, three-RBI game Wednesday night is the start of a hot streak, it would change the whole dynamic of the offense.
2. The great David Price experiment. In one breath on MLB Network Radio, Farrell suggested Price could be the Red Sox's version of Andrew Miller. In the next, during a pregame session with reporters, Farrell refuted that comparison. Which is it? At this point, nobody has any idea. Price dominated in his maiden relief appearance Sunday at Tampa Bay. But over the next 10 days, the Red Sox will get a better handle on how to use Price. How often can he pitch? How long does he need to warm up? Can he enter a game with runners on base, or is he better suited to start an inning? The answers will go a long way toward determining Price's impact in October.
3. How does Eduardo Nunez fit in? It's hardly a stretch to say that Nunez and rookie third baseman Rafael Devers rescued the Red Sox. They carried the offense in August at a time when Betts, Xander Bogaerts and Ramirez were scuffling. Nunez, in particular, has eight homers in 163 at-bats since a July 26 trade from the San Francisco Giants, for whom he hit four homers in 302 at-bats. But he has been sidelined for nearly two weeks with a sprained right knee and has not yet tested the injury by running the bases. When he does return, Farrell will have to figure out how to get him in the lineup. The most logical spot would seem to be third base, where 20-year-old Devers, who has plateaued since the torrid start to his big league career, has been playing.
September, 20, 2017
Sep 20
12:29
AM ET
BALTIMORE -- The Boston Red Sox have issues. And one of them is how badly they need offense.
A day after erupting for 10 runs against the Baltimore Orioles -- including a bat-around fifth inning that erased a 6-1 deficit -- Boston's bats went back into hibernation in a 1-0 extra-innings win over Baltimore on Tuesday. Even though they did enough to win, finally putting a run across in the top of the 11th, the string of 10 consecutive bagels that the Sox hung on the Camden Yards jumbotron prior to that provided an ugly reminder that once the postseason rolls around, the Red Sox might have trouble hanging with the American League's heaviest hitters.
Of the five AL teams currently in playoff position, the Red Sox rank last in scoring (4.8 runs per game), on-base percentage (.331), slugging (.407) and OPS (.738). In those last two categories, they aren't just bad relative to playoff teams. They're just plain bad: Their slugging percentage is the fifth-lowest in the majors, and their OPS is 10th-lowest. It doesn't help that Boston isn't whole. Utilityman Eduardo Nunez, who has been a godsend since coming over from San Francisco at the trade deadline, is out with a knee injury. Dustin Pedroia, the engine that makes the Sox go, didn't start Tuesday after Monday's nasal contusion and has had trouble staying on the field all year. Then there's slugger Hanley Ramirez, who isn't hurt but has been hitting like he is (.205 average since the break).
"We're banged up," skipper John Farrell said. "That's apparent."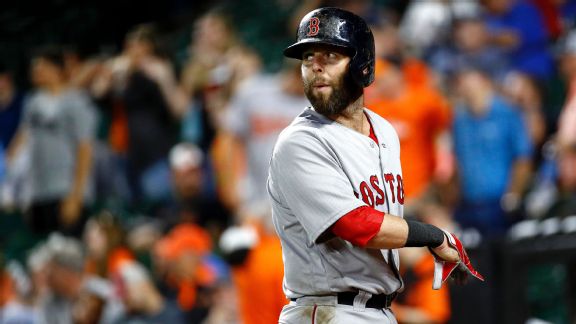 AP Photo/Patrick SemanskyDustin Pedroia walks off the field after hitting into a double play to end the 10th inning on Tuesday.
The problem is that even when healthy, Farrell's offense isn't the prototypical Red Sox offense that opposing teams have come to know and fear. With slugger David Ortiz gone, power has suddenly become a scarce commodity. The Sox's 156 jacks are the fewest in the American League. In a season in which 31 big league hitters have reached the 30-homer plateau, Boston's co-home-run leaders (Ramirez and Mookie Betts) are on pace for just 23 bombs. But perhaps nothing, and I mean nothing, speaks more to the Sox's offensive issues than this: On Tuesday, the very same night that MLB set a new record for home runs in a season, Boston needed an infield hit, two walks and a wild pitch to produce its lone run. Needless to say, a solo homer would've been way easier. But these Red Sox don't really do home runs.
What they do well is extra-inning wins, another sign of just how much trouble they've had scratching out runs. With Tuesday night's win, the Sox improved to 15-3 in overtime this season. That's the best record in the majors, and it ties a franchise record for extra-inning wins in a season. That's all fine and good, and it speaks to just how good the Boston bullpen has been, but maybe if the Red Sox generated more offense on a more consistent basis, they wouldn't require more than nine innings to get the job done. If you don't think that theory holds any water, think again: Of the four other teams in the top five in extra-inning games played this season (Blue Jays, Giants, Pirates, Phillies), none ranks higher than 25th in runs scored.
Just how bad have things gotten? So bad that Mitch Moreland, who sandwiched a hot August between a .145 July and a .183 September, was hitting cleanup on Tuesday. So bad that Pedroia -- who busted his nose the day before and who Farrell said before the game would be used only in an emergency -- actually got used. Naturally, he grounded into an inning-ending double play. Because that's the way things have been going for the Red Sox's offense.
"Hopefully, in due time," Farrell said, "the guys that have been big offensive contributors for us, Nuney being one, Pedey getting back in the lineup a little more regularly, Hanley hopefully getting back on track somewhat … we've got some guys coming to us."
Then, without skipping a beat, the Sox skipper changed the subject.
"In the meantime, what the pitching staff is doing is remarkable."
So they've got that going for them, which is nice.
September, 19, 2017
Sep 19
5:58
PM ET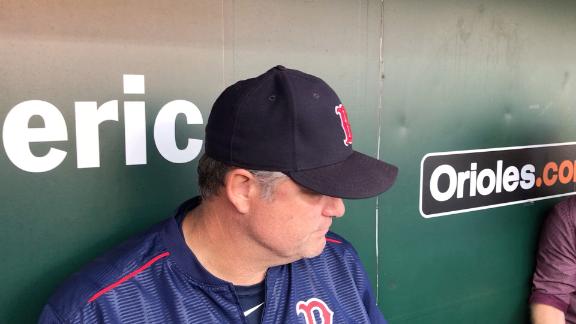 BALTIMORE -- A day after suffering a nasal contusion, Dustin Pedroia was not in the lineup for the Red Sox Tuesday, but he pinch hit in the 10th and grounded into a double play to end the inning.
"He's sore," manager John Farrell said before Tuesday's 1-0 11-inning win over the Orioles. "I would think in an emergency only would we even consider putting him in the game. After talking with him here and after getting checked out, felt like it was best to just hold him out a day. I would expect him to be back in the lineup [Wednesday]."
Pedroia fouled off a pitch that bounced off home plate and struck him in the nose in the fourth inning of Boston's 10-8 win at Camden Yards on Monday. He exited the game in the middle of his at-bat and was replaced by Brock Holt.
After the game, Farrell left open the possibility that Pedroia might get a CT scan. However, Farrell said Tuesday that the veteran second baseman did not undergo any further imaging.
"Didn't feel like the follow-up with the medical staff was warranted," Farrell said. "But he is sore, there's no question."
Holt started Tuesday in place of Pedroia, who has been on the disabled list three different times this season due to a strained hamstring, a wrist sprain and knee inflammation.
Pedroia is hitting .303 with seven home runs and 58 RBIs in 98 games this season.