August, 1, 2017
Aug 1
9:00
AM ET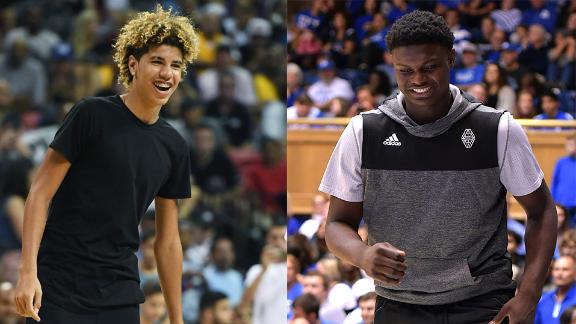 LAS VEGAS -- July has come to a close. Three weeks of coaches and players crisscrossing the country essentially tracking one another is over, and the recruiting landscape looks much different than it did in early July. The biggest story of July was the
Big Baller Brand show
, but
LaMelo Ball
is already committed to UCLA, so there weren't many recruiting ramifications in the drama and theatrics of the past few days in Las Vegas. But what did we learn? Here are five key items:
The race for No. 1 in 2018 if Marvin Bagley reclassifies is wide-open.
Vincent Cole for AdidasIf Marvin Bagley III reclassifies, Zion Williamson isn't assured to move to No. 1.
The gap between Marvin Bagley III and the rest of the 2018 class is huge -- and he would be the No. 1 prospect if he reclassifies to 2017 too. But what happens to the top spot in 2018 if Bagley ends up entering college this fall?
Zion Williamson
is currently at No. 2, but
Cameron Reddish
(No. 3) is nipping at his heels and had some high-level performances over the past few weeks.
Bol Bol
(No. 4) and
Moses Brown
(No. 6) are both high-ceiling options, but they were inconsistent in July and might be better long-term prospects than present-day options.
Romeo Langford
(No. 5) was similarly up-and-down this month.
Nazreon Reid
(No. 7) has as much talent as anyone in the class, and it looks like the light is starting to turn on more consistently. One name to watch in the top is
Simisola Shittu
(No. 9), who had a dominant Peach Jam week and whose production puts up ahead of most of his peers. Names outside the top 10 that could move up include
Louis King
(No. 16),
Tre Jones
(No. 19) and
Anfernee Simons
(No. 21). A new candidate for No. 1 emerged on Monday, when R.J. Barrett, who was No. 1 in 2019,
reclassified into the 2018 class
. It was widely expected, but he moves up to No. 3 in 2018 for now.
Duke and Kentucky narrow their focus.
Mike Krzyzewski and John Calipari generally recruit many of the same players near the top of the player rankings, but the two recruiting powerhouses begin to separate somewhat coming out of July. Kentucky is seen as the favorite for Williamson and five-star point guard
Immanuel Quickley
(No. 14), with Quickley saying as much publicly and Williamson mentioning playing with Quickley in college. Reddish is another player near the top of the Wildcats' board, and his AAU teammate, Louis King (No. 16), has played in front of Calipari several times in the last month. Calipari spent plenty of time watching
Darius Garland
(No. 11) after offering him earlier this month, and Shittu has risen on Kentucky's board, with Calipari flying to watch him on Saturday. Duke hasn't hid the fact it wants both Tre Jones and Darius Garland in its 2018 backcourt. Perhaps the two best point guards in the class, Krzyzewski has told both players he thinks they can play together -- and the Blue Devils have made both a priority this month. Reddish is the top wing on their board, and Duke has recruiting him heavily for a long time. Williamson is also on Duke's list, with Krzyzewski continuing to watch him in Las Vegas. Duke coaches also watched
Emmitt Williams
(No. 12),
Quentin Grimes
,
David McCormack
(No. 34),
Nassir Little
(No. 36) and others.
Arizona wants a second point guard in 2018.
When
Brandon Williams
(No. 42) committed to Sean Miller and the Wildcats in early June, most assumed Arizona had its point guard situation figured out for the 2018 class. They already had ESPN 100 point guard
Alex Barcello
from 2017, and now Williams would be ready in 2018. July made it clear that Miller wants another point guard in the 2018 class, though.
Jahvon Quinerly
(No. 15) has already taken an official visit to Tucson, and Miller watched him over the last few weeks. Miller was also spotted watching Quentin Grimes (No. 29) and
Devon Dotson
(No. 33). Arizona then offered
Jalen Carey
(No. 55) prior to the third live period. Plenty of successful teams over the past couple of years have used two ball-handlers on the court at the same time. Miller seems poised to do the same.
Casey Sapio-USA TODAY SportsSean Miller and Arizona are after multiple point guard prospects in this class.
Schools could get left in the cold in the battle for point guards.
Point guard dominoes are always a big topic of conversation, and 2018 is no different -- especially when four of the top 10 point guards and seven of the top 17 are already off the board. Considering that schools like Duke, Arizona, Kentucky and Kansas potentially want multiple point guards in this class, the pickings could get pretty thin after a few commitments occur early in the fall. There are a few wild-card possibilities in the class, as well, with Vanderbilt pushing hard for Darius Garland and Marquette making Quentin Grimes a major priority atop its board. It appears that seemingly every top point guard is waiting for someone else to make a decision first, so we might not see much movement in this area for several weeks.
August won't be quiet.
While most programs are working on official visits and planning out their 2018 class, there are still several decisions to be made that could shape the upcoming college season. Marvin Bagley is obviously the biggest one, and he has already visited Duke and USC. Arizona and UCLA are also in pursuit, and are expected to get visits. A decision regarding reclassification should come shortly after. Fellow top-10 prospect
Jontay Porter
committed to Missouri in the spring, and is widely expected to enroll this fall to play alongside his brother,
Michael Porter Jr
. But we're still waiting for an official decision. ESPN 100 guard
Eric Ayala
is another player still waiting to make a reclassification decision, with Ohio State pushing heavily for him to play this season. Oregon and others are also in the mix.
To continue reading this article you must be an Insider