October, 19, 2017
Oct 19
7:12
PM ET
RENTON, Wash. -- The Seattle Seahawks expect to have defensive lineman Michael Bennett available for Sunday's game against the New York Giants, according to coach Pete Carroll.
Bennett's status has been uncertain because of a plantar fascia foot injury he suffered in Week 5 against the Rams, before Seattle's bye. Bennett said Wednesday that he plans to play, but he was still in pain and didn't practice that day. Bennett returned to practice Thursday as a full participant.
"He practiced today, made it through it," Carroll said. "He's a little sore, but he made it through all of the work, so he looks like he's ready to go."
Starting cornerback Jeremy Lane's status is uncertain because of a groin injury he suffered in Week 4 vs. the Colts. Lane hadn't practiced until Thursday, when he was a full participant. Carroll said the team would need to see how his groin responded before knowing if he would be available Sunday.
Carroll was also noncommittal about running back C.J. Prosise, who missed Seattle's past two games because of an ankle injury. He was limited Wednesday and a full participant Thursday.
Defensive end end Quinton Jefferson will be available Sunday. Carroll said he's able to play with a cast protecting his surgically repaired right hand, where he broke the fourth metacarpal bone in practice shortly after Seattle brought him back earlier this month.
October, 19, 2017
Oct 19
7:00
AM ET
By
Brady Henderson
| ESPN.com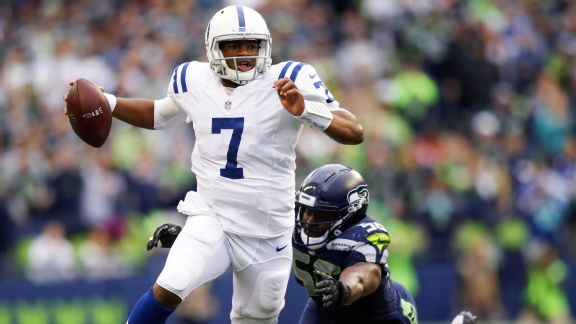 Jonathan Ferrey/Getty ImagesCliff Avril was injured on Oct. 1 when Jacoby Brissett's heel hit Avril in the chin.

Veteran defensive end Cliff Avril suffered a neck and spine injury in Week 4 that could be career-threatening.

October, 18, 2017
Oct 18
6:48
PM ET
RENTON, Wash. -- The Seattle Seahawks are placing Pro Bowl defensive end Cliff Avril on injured reserve, coach Pete Carroll said in an interview with SiriusXM NFL Radio on Wednesday.
The team has not formally announced the move, and it wasn't listed on the NFL's transaction report for Wednesday.
Avril has been sidelined since suffering a neck/spine injury in Week 4. He'll have to miss at least eight weeks while on injured reserve, and it's possible that he will miss the remainder of the season. Carroll has said that Avril's injury could be a long-term issue, and when asked last week if it could sideline him for the rest of the season, the coach didn't rule out that possibility.
Avril, 31, is in his 10th NFL season and his fifth with the Seahawks. He's coming off a career-high 11.5 sacks in 2016 en route to his first Pro Bowl appearance. He's signed through the 2018 season.
"He was a major part. He's a big piece of our puzzle," Seahawks defensive coordinator Kris Richard said Wednesday. "You hear the cliché time and time again, 'Next man up,' and it's just very difficult. It's very difficult, but we have to keep moving on, and we have to rely on the guys, [the] next man in line, and really, I think it's going to show who's been preparing."
Third-year defensive end Frank Clark
October, 18, 2017
Oct 18
6:36
PM ET
By
Brady Henderson
| ESPN.com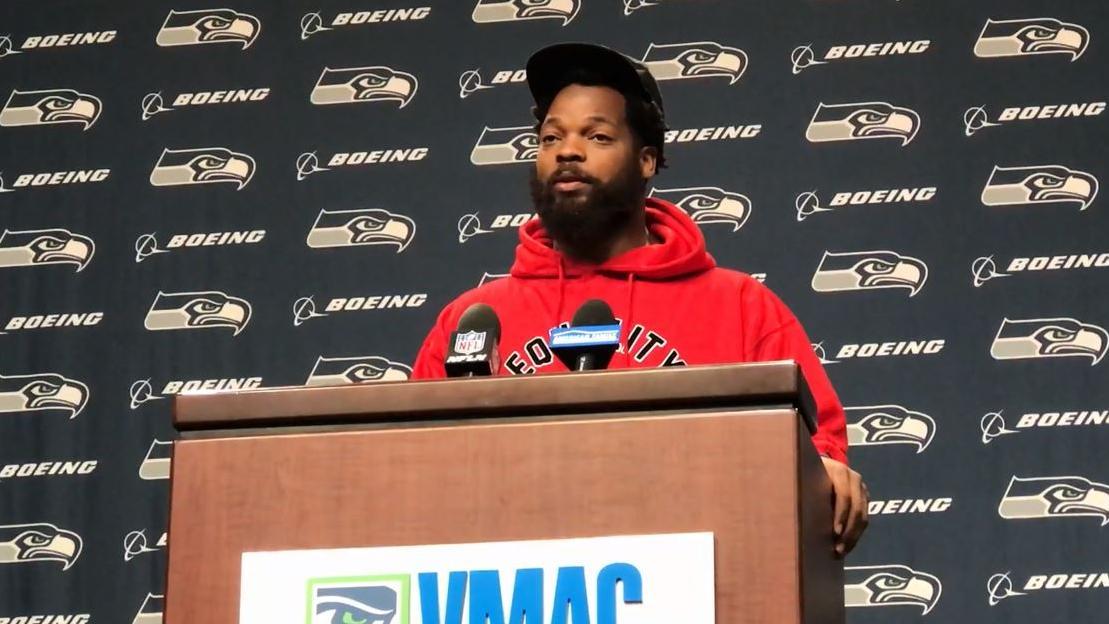 RENTON, Wash. -- Seattle Seahawks defensive lineman Michael Bennett said that before NFL players and the league can move forward with their conversations about working together on social causes, the issue of Colin Kaepernick's unemployment must be addressed.
"I think the first step to even being able to even have a conversation is making sure that Colin Kaepernick gets an opportunity to play in the NFL," Bennett said Wednesday. "I think before we even negotiate anything about whether we sit, whether we stand [during the national anthem], it should be a negotiation about opening up the doors for Colin Kaepernick and giving him an opportunity again, because I feel like through everything, that's been lost.
"All of us are having an opportunity to be able to speak to our employers, but to think about the guy who started everything not to be able to have a voice at this moment, it just doesn't seem very right to me."
Bennett said he spoke with some of the players who attended the NFL meetings on Tuesday in New York; he was unable to be there because the Seahawks were practicing that day. Kaepernick was brought up during the meetings, according to Bennett, but there wasn't much discussion about him.
"I don't think we can work alongside of them until we address that issue," Bennett said. "I think the issue with Kaepernick is the start to a conversation. If they want us to be open to what they want, the dialogue, then that's something that needs to be on the table right there."
Bennett and many other players, including Seahawks teammate Richard Sherman
October, 18, 2017
Oct 18
7:00
AM ET
By
Brady Henderson
| ESPN.com
October, 17, 2017
Oct 17
10:43
PM ET
By
Brady Henderson
| ESPN Staff Writer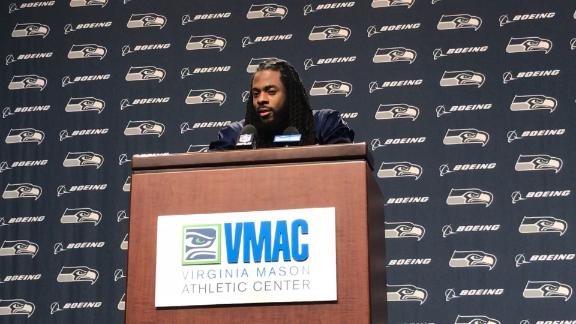 RENTON, Wash. -- Seattle Seahawks cornerback Richard Sherman says the efforts of NFL players to engage in social issues shouldn't be discredited because they're wealthy.
Sherman made that point Tuesday while lauding his teammate and close friend Doug Baldwin. Along with NFL commissioner Roger Goodell, Baldwin co-signed a letter sent to the Senate Judiciary Committee expressing support for a bill that seeks criminal justice reform. Baldwin also has been active in trying to promote change in other areas such as de-escalation training for police.
"I think what he's doing with Goodell and that is fantastic," Sherman said of Baldwin, his teammate at Stanford. "He's been doing that work for years now, meeting with police and trying to work to change, and I think that's what gets missed sometimes with players, because they're like, 'Oh, stick to sports, stick to this.' And a lot of people have used the phrase like 'privileged athletes.' 'Oh, these privileged athletes, you guys are rich millionaires.'
"And it's like, well, seven years ago I had negative $45 in my account. What was I then? You know what I mean? I was still a black guy, I was still a kid from the hood, and we will never forget those moments."
Sherman, who grew up in Compton, California, has been one of the NFL's highest-paid cornerbacks since signing a four-year, $56 million extension in 2014. Baldwin, who is from Gulf Breeze, Florida, signed a four-year, $46 million extension last year to become one of the league's top-paid wide receivers.
October, 17, 2017
Oct 17
6:40
PM ET
By
Brady Henderson
| ESPN Staff Writer
RENTON, Wash. -- The Seattle Seahawks expect to be without starting left guard Luke Joeckel for at least another month, coach Pete Carroll said Wednesday.
It's a longer timetable than what was initially assumed after Carroll said last week that Joeckel was having an arthroscopic procedure on his knee with the Seahawks on their bye. Carroll said at the time that Joeckel would likely miss Seattle's Week 7 game against the New York Giants, but his recovery will keep him out much longer than that.
"We're going to be optimistic that maybe he can make it back in four or five weeks and we'll see what happens," Carroll said Tuesday. "Maybe that's possible and maybe that isn't. We've got to see how he heals and comes back around. He definitely needed to get some things cleaned up and that was taken care of and everything went beautifully, so he's very optimistic as well. So we need to see what happens here. Really, we won't be able to know probably for three weeks anyway to know where he is."
Carroll was asked if the Seahawks will need to bring in outside help for their offensive line, as free-agent left tackle Branden Albert worked out for the team last week but the two sides didn't come to an agreement.
"We're always looking," Carroll said. "That's probably what you saw last week."
Offensive line coach Tom Cable said both Mark Glowinski and rookie Ethan Pocic will play Sunday against the Giants at MetLife Stadium
October, 17, 2017
Oct 17
12:28
PM ET
By
Brady Henderson
| ESPN.com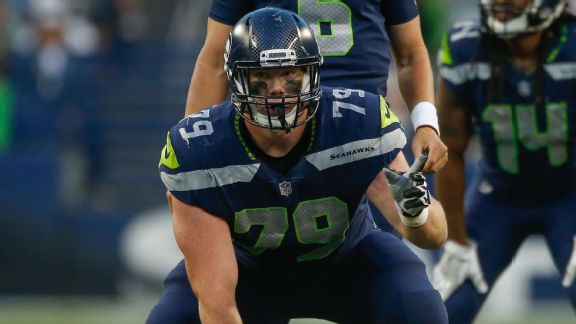 Photo by Otto Greule Jr/Getty ImagesSeahawks rookie Ethan Pocic played center, right guard and right tackle at LSU.

Seattle has more experienced offensive line backups, but Luke Joeckel's injury has created another opportunity to play versatile rookie Ethan Pocic.

October, 17, 2017
Oct 17
9:43
AM ET
ESPN.com
NFL commissioner Roger Goodell and Seattle Seahawks wide receiver Doug Baldwin co-signed a letter sent to congressional leaders in support of a bipartisan legislative bill that seeks criminal justice reform.
The letter states the NFL is offering its "full support" of the Sentencing Reform and Corrections Act of 2017, which seeks reforms and targets enhanced mandatory minimums for prior drug felons, increases judicial discretion for sentencing, and reforms enhanced mandatory minimums and sentences.
"The Sentencing Reform and Corrections Act would address many of the issues on which our players have worked to raise awareness of over the last two seasons," the letter, which is dated Oct. 16, reads. "... If enacted, it would be a positive next step in our collective efforts to move our nation forward."
The bill was written by Sen. Chuck Grassley (R-Iowa) and Sen. Dick Durbin (D-Ill.) in 2015.
Asked Monday about a potential pushback from the White House, NFL spokesman Joe Lockhart said he didn't know the President Donald Trump's position on the bill.
"I know that this has overwhelming bipartisan support, and we think it's the right thing to do, so that is our focus right now,'' he said.
Baldwin discussed the letter after the Seahawks' practice on Tuesday, saying the letter came about organically and is an important step in unifying the NFL community.
October, 16, 2017
Oct 16
7:00
AM ET
By
Brady Henderson
| ESPN.com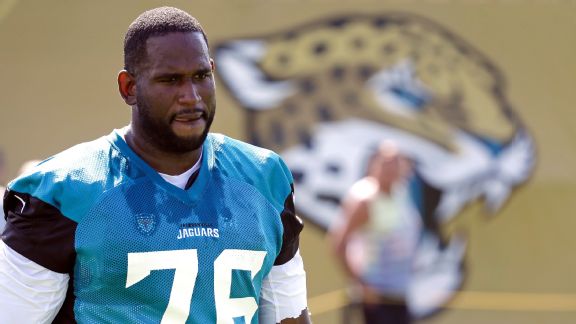 John Raoux/AP PhotoSeattle could pursue left tackle Branden Albert, who was scheduled to make $8.875 million this season before leaving the Jaguars over the summer.

With their injury list growing and their cap space shrinking, the Seahawks might need to restructure some contracts to add reinforcements.

October, 15, 2017
Oct 15
10:34
PM ET
If you've ever seen X-rays from collarbone injuries, you know the unsightly images can look like a jagged Wall Street graph after the stock market takes a big tumble. The visual also applies to a suddenly volatile NFC race after the Green Bay Packers announced the terrible news that a broken right collarbone will sideline quarterback Aaron Rodgers, quite possibly for the season.
When Rodgers plays, the Packers are the one team in the NFC with a quarterback great enough for the team to contend without much help from the defense and/or conventional running game. With Rodgers out, we stacked all 16 NFC teams into one of four groupings in what was already looking like a pretty wide-open conference.
"This is as open as I can remember it in a lot of years, because it is hard to say who the top one or two teams are in the conference," an evaluator said. "Usually, you would put the Packers and someone else -- Seattle, maybe -- that you feel strongly about. You just don't feel as strongly about those teams this year."
We start with the leading contenders, including three that have been to the Super Bowl recently with many of the same key players in place, including quarterbacks who have shown they can win playoff games with sufficient support. Every one of these teams is flawed enough to trade places with teams below them, which is why this NFC race will be a difficult one to handicap.
October, 14, 2017
Oct 14
7:00
AM ET
By
Brady Henderson
| ESPN.com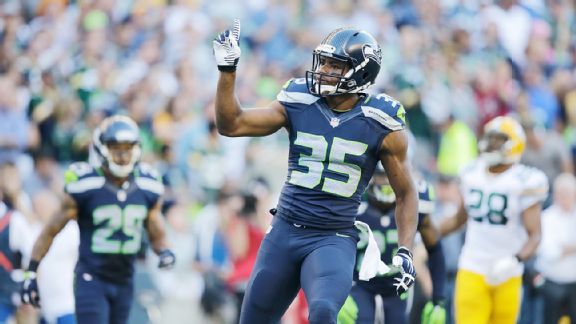 AP Photo/Scott EklundDeShawn Shead, who tore his ACL last season, is eligible to return practicing Monday.

DeShawn Shead and Dion Jordan have been sidelined all season, but it's possible they could return to action in the not-too distant future.